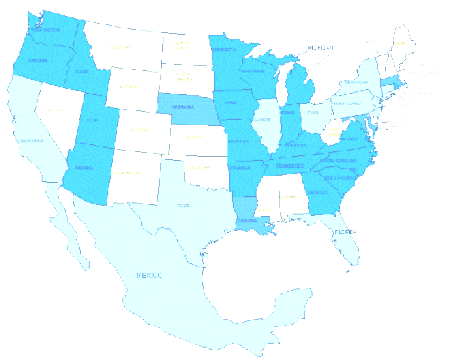 US CONSULTS performs as adjunct staff for its clients. We identify and capture opportunities to increase our client's profitability and to improve our client's balance sheet performance. Founded in 1985, this unique partnership includes over 30 experts with skills and experience in government and in regulated and non-regulated industries. Our mature professionals are based strategically throughout the United States and Mexico, ensuring their familiarity with local, regional, national and international agencies, institutions, utilities and governments.
In short, we deliver significant benefits to our clients in a discreet and professional manner.
US CONSULTS' partners are without equals in the results they deliver by negotiating discretionary government incentives and utility special contracts. It is important to note that most government benefits and incentives are discretionary. Because of their collective background, US CONSULTS' partners are able to identify and negotiate opportunities that would not otherwise be obtainable. Expert in statutes, US CONSULTS does not limit its negotiations to maximize existing policy. Rather, US CONSULTS maximizes the statutory benefit to the client, often resulting in the creation of new policy and programs. Thus, US CONSULTS truly creates opportunities that without its services would not exist. As a result, US CONSULTS achieves unparalleled incentives for its clients.

Similarly, utility special contracts are discretionary. Once again, because of the partners' skills and experience, US CONSULTS has a record of unequaled accomplishment, with an extensive successful record of negotiating special contracts for power and natural gas.

For more information, please click on our emblem, or contact Simon Millerman at:
Telephone: (631) 474-1151
Fax: (631) 331-9260
e-mail: khanton@usconsults.com